motivation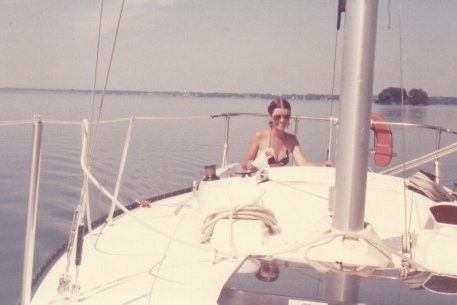 Charter to Bay of Quinte with Anna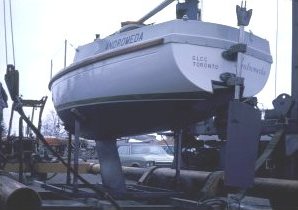 Pandora 22 'Andromeda' being launched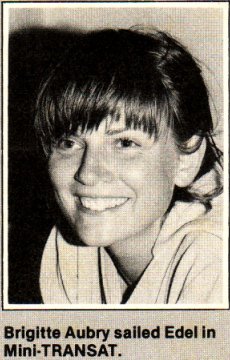 Brigitte Aubrey
After racing dinghies and crewing on keelboats most of my youth I wanted to do some cruising after I moved to Canada. I did not have a boat so I chartered during vacations on Lake Ontario.
The first charter boat was from a guy who wanted to charter his boat occasionally to help cover costs. On my qualifying sail I wasn't quite up to speed with all the different navigation markers I was used to on the Irish sea but he could see I could sail, and that I was responsible so he let me take the boat for a week's sail to the Bay of Quinte on Lake Ontario.
I found out the boat was an almost brand new 25' Hughes "Northstar 500" racing sloop and a delight to sail.
The trip gave me quite a bit of cruising experience as it was my first trip on a keelboat with just myself in charge. It was a big adventure for my girlfriend, Anna, as she had never sailed on keelboats before but she had an innate feel for sailing and got the hang of things very quickly. I gained an appreciation for inland navigation as I had not done much of that previously.
We got back in one piece - despite a severe thunderstorm on our last leg home - I had the sense to get the sails down in time and motor through it. For both of us it was our first experience with severe lightning on the water.
A number of years later, In my late-twenties, I purchased a Pandora International 22' sailboat - two had been imported from England for the Toronto Boat Show. I had always been fascinated by self-steering and since I knew I would be single-handing quite a bit I purchased a Hydrovane self-steering for it as electric autopilots were crude and unreliable at that time. Being a small boat I was able to replace the outboard rudder with the Hydrovane unit as it had a 'manual' mode where you could put an emergency tiller into it and use it as a rudder. I effectively ended up with not only a self-steering but a rudder mounted in ball bearings!
At that moment I would never have believed the type of trips I would be doing not many years in the future. I even made a few overnight trips and found navigating at night very easy as you could see the shore navigation lights so easily.
I kept pushing myself to go further and further on my Pandora, Andromeda, mainly during my three week vacations. After a few years I once spent my vacation going up the Trent-Severn Canal (8 days - 8 hours a day using my trusty Honda 7 hp 4-stroke outboard) and then sailing 30 hours non-stop to the North Channel in Lake Huron. Spent a week there, then sailing almost non-stop back through Lake Huron and Erie, Welland Canal and back across Lake Ontario.
The Pandora did the 1,000 miles in three weeks with no sweat at all. It is such an easy boat to manage and sail and very comfortable even in the awful short high steep waves you can get on the Great Lakes sometimes. The secret is to keep the sail area small when the wind gets up.
A number of years later I came across a charming 21 year old French girl at the Toronto Boat Show who was displaying her 22' sailboat which she had just sailed solo from France to the Barbados in the Mini-TRANSAT singlehanded race. We talked for hours inside her little boat and it was a major inspiration for me.
I then decided to take a summer off - unpaid leave of absence for four months - and challenged myself to circumnavigate all of the Great Lakes in one summer.