Lake Superior
introduction
introduction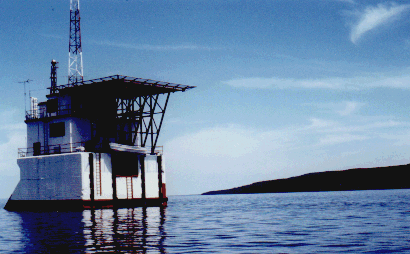 Cap Gros Light - designed to withstand massive waves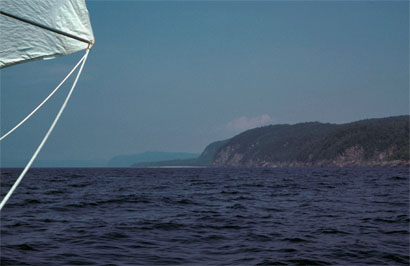 Lake Superior - sailing up the east coast
I arrived in Lake Superior in mid-July, considered to be the optimum time to cruise the lake. I was excited to be there having wondered what it would be really like. There is not much information about people cruising Lake Superior in small sailboats.
My first day was anti-climatic, the weather was warm with little wind as shown in the photo. I really didn't mind though - I was glad to get any nice weather I could. I sheepishly took off my safety harness, ski jacket, ski gloves, shook out the reef, put up the #1 and had an easy sail in light winds to my first destination - a beautiful, though somewhat exposed bay so I was glad of the good weather.
The first night was very quiet and peaceful - I figured out there was probably nobody within 30 miles of where I was anchored alone in a long thin bay. First time in my life that would have been the case!
The rest of the trip went well except for one day it was very windy and rough - used just my storm jib. I did have one surprising experience when I stayed the night on Davieaux Island and I was invited to tour the lighthouse there by the lighthouse keeper, Mr. Dawson, who told me very interesting stories about life on that island.
When I got back to Lake Huron my plan was to sail around Lake Michigan, but I realized I would not have time to do that with the four months I had off work. So I continued down to the west coast of the Bruce Peninsula and then along the south east coast of Lake Huron to Lake Erie and had a loverly sail doing that.