trent-severn canal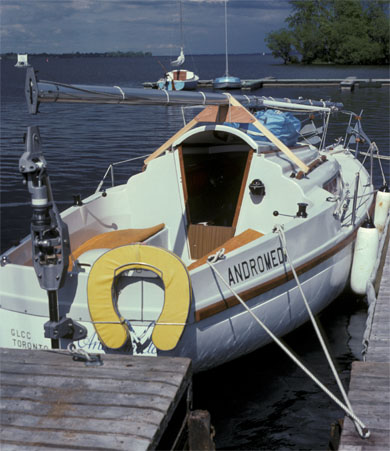 Taking mast down for trip up Trent-Severn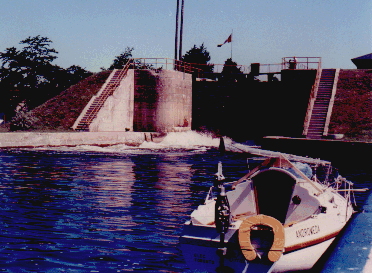 Tied up at a lock for the night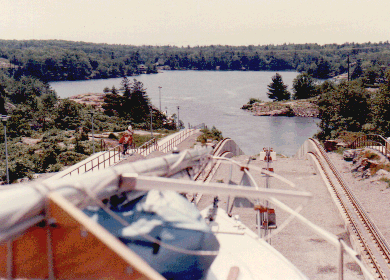 Marine railway at Big Chute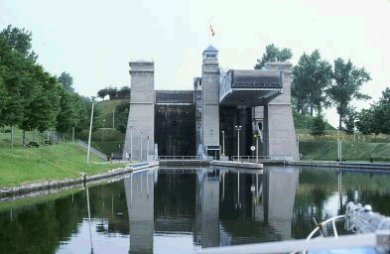 Peterborough hydraulic lock
The Trent-Severn canal and lock system runs from Bellville in the Bay of Quinte (west of Kingston, ON) and runs through canals, rivers and many lakes to Georgian Bay (Lake Huron) north of Midland.
Statistics:
Length: 386 km (240 miles)
Locks: 44 (includes flight and hydraulic locks)
Sea-Level Profile:
Lake Ontario 74 m (243 ft)
Balsam Lake 256 m (840 ft)
Georgian Bay 176 m (577 ft)
Hours: 8:30 a.m. - 8:00 p.m. (summer season)
Fees: (2009)
Lockage Fee: $5.05 per foot (six day)
Transit Fee: $4.65 per foot (one way)
Overnight Fee: $0.90 per foot
It takes 5-8 days to traverse in a sailboat. It is a really enjoyable trip as the scenery is always changing. The locks are very efficient - usually opening as you come up to them. The locks are quite gentle - I have done the trip twice solo and never had a problem. You can stay overnight at any of the locks which have long docking areas either side of them which were free when I last went through but a small fee is payable now for the trip.
You have to take your mast down as there are many low overhead bridges. The only part of the trip which needs a weather watch is Lake Simcoe which is by far the largest lake you need to navigate through and it can be very rough when there is a good wind. With your mast down sailboats roll a lot and this lake usually has the wind on your beam so lash that mast on securely!
Generally, the trip is very relaxing and with an electric autopilot you can spend most of your time just reading and watching the scenery go by. In mid-July to mid-August it can get quite busy in places so I would really recommend going in June or September if you can go at that time.
Once north of Lake Simcoe the scenery is quite spectacular in places with high rock faces and beautiful small lakes.
Taking the marine railway at Big Chute is a thrilling experience as it is very high tech with a platform that stays level as it climbs and descends very steep terrain. It is big enough to take two large sailboats at a time.
Many house boat and various powerboat operators now run tourist operations on the Trent but you only run into them (hopefully not literally) in just the odd places.
The trip is an adventure in itself and well worth doing for its own sake. There are enough small towns and villages along the route to get groceries or whatever you might need.
A Fascinating Girl
I had one very interesting experience at a lock on the Trent-Severn Canal. A girl walking on the other side of the canal really caught my attention as besides being very attractive, something seemed really unique about her - her posture, carrying a fishing rod and the way she was dressed - it just wasn't typical.
An hour later, a chap on a 40' ketch, tied up on the other side, invited me to visit. He was an Air Canada pilot and I found out the companion he talked to me about was the girl I had seen walking along the canal.
She actually owned the yacht and was taking the boat south with his help! He told me she had always wanted to be a commercial airline pilot and worked her whole life toward that goal. She grew up in Sweden, obtained her commercial marine skipper's papers while just out of her teens, spoke five languages fluently, worked as an air hostess for Air Canada and as a fashion model to pay for her flying lessons!
She got her commercial pilot's license and with considerable effort was hired by Air Canada as one of their first female pilots.
He told me an amazing story about her training at Toronto International Airport. She got flipped upside-down while taxiing - caused by an errant Boeing 747's exhaust, also taxiing. She was very upset about possibly losing her life after all her hard work and, after extracting herself from her upside down plane she ran out to the 747 and banged her fists on the wheels of the Boeing in frustration.
She returned to the ketch later that afternoon and we all had a chat about flying. She was soft-spoken, inquisitive and very nice. She achieved her goal and became Air Canada's third female Captain.
Soon after the trip I saw a two page article about her in a Toronto newspaper, and recently a book which included her exploits.