sailboat Contessa 26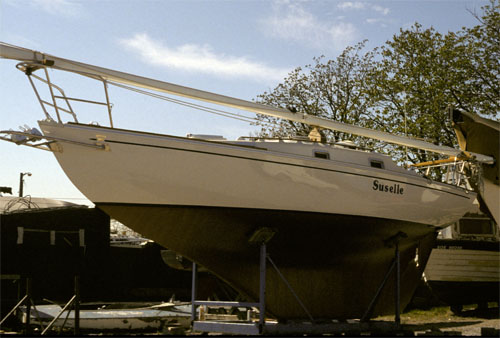 Contessa 26 'Suselle' new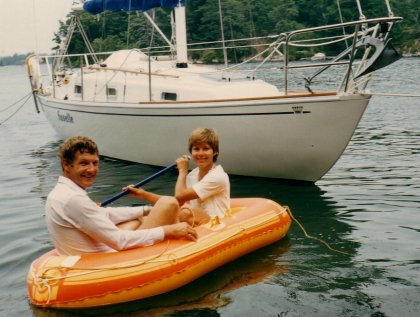 First cruise on 'Suselle' with Hana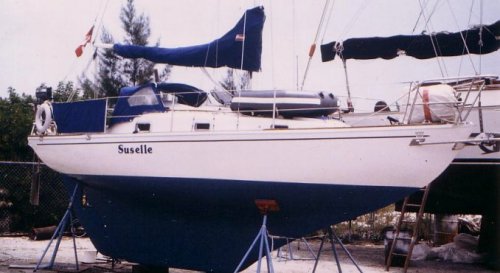 Contessa 26 'Suselle' equipped
I had my Contessa 26 custom built to some extent as I had them install opening ports everywhere, the rudder top was redesigned and the stern deck was reinforced to allow a Monitor self-steering unit be installed (the cost was reduced, as, by coincidence, the-youngest-female-ever-circumnavigator, Tania Aebi, was having her Contessa 26' built at the same time as mine and she decided to put a Monitor on her boat as well with similar modifications to her Contessa. She had flotation put in her boat so it would be unsinkable).
I had a chain pipe installed from the deck chain locker through the water tank in the bow to the keel so the chain rode could be stored down in the full keel (thanks to advice from "I Sailed the World" Declan Mackell). I designed my own twin anchor frame and had it custom made - the commercial ones I felt were poorly designed with the anchor rollers on the outside of the frame and vulnerable - I had them put inside with a wider frame.
The cruising seminars I attended each winter proved to be a great experience as well as learning a huge amount. I was able to hear, and chat, with sailors such as Robin Knox-Johnson, Naomi James, Dick Newick, Lin and Larry Pardy, and many 'ordinary' Canadian sailors who had made trips to the Caribbean and beyond. I read a number of books about cruising which were a great help.
Experience teaches a lot too - during my Great Lakes trip I learnt a lot. I have a passion for reliability and simplicity and I wanted a boat that would go two years without any problems and I am glad so say the boat proved flawless.
The type of boat is a topic that can be debated endlessly. There are many factors and trade-offs. Smaller boats are easier to manage, maintain, easier to clean (at certain places and times of the year even with good antifouling paint you have to snorkel under your boat weekly and wash the growth off the bottom). You set and raise anchors (two are just about mandatory in the Bahamas) almost daily and small anchors and chain are a lot easier to manage than large ones.
I think boats from 30' to 38' are a good choice for couples. Cruising boats which successfully circumnavigate are rarely more than 40', which is interesting. Ideally, a boat should be almost new, or have a total makeover before departure. Sail repair can be a major item. Good sails, preferably triple stitched, are worthwhile, mine were done this way and never had to be repaired. The boat must have suitable equipment for cruising.
I chose the Contessa 26' because it was designed for blue water sailing and has proved it itself to be very seaworthy with several circumnavigations to its credit and considered by many as the perfect boat for single-handing. The Contessa 32' (a larger but otherwise similar boat) is used as the standard for stability by which other yachts are measured. It has the traditional wine glass hull making it very comfortable in a big sea and narrow making it fast into the wind. It is also one of the strongest Canadian sailboats made. Its hull is twice as thick as most other yachts of its size and it foregoes a sliding hatch to make the deck very strong. In retrospect, I felt it was really overkill for a Bahamas trip but I was also lucky with the weather I had.
The day I went to the boat builder for its delivery trip to my marina was very exciting. Once it was safe and sound in the marina I sat on it until nightfall inspecting every inch of it and getting totally familiar with the whole boat.
I sailed it at every opportunity the three summers before my trip checking all the equipment out. I had a Danish girlfriend, Hana, who had her own sailboat, so we had to choose which to take, mine being new, was usually the choice (a nice situation to be in). Hana was great to sail with as she was fearless (once, she climbed to the top of the mast on her own boat - to my amazement). On our first cruise we took part in a cruising race with about 22 boats and we won it, much to my surprise. Having a crew like Hana was a big plus.
The Contessa proved to be fantastic for the trip. It was always very comfortable at sea, totally dry inside and could get in and out of anywhere and very easy to handle in any conditions. They are not know for having much room below but I found that it is so warm down south you spend most of your time in the cockpit and my cockpit was fully screened from the sun and wind.