boat cost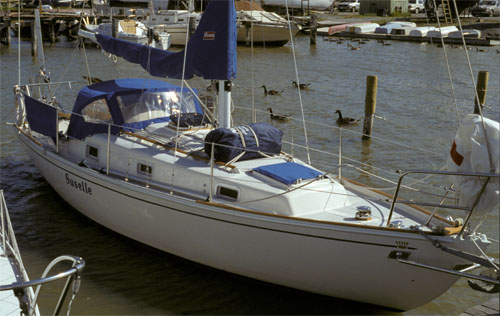 Contessa 26
This is certainly the major expense of a trip. You can of course sell the boat after the trip and recoup most of this expense. How much people spend on boats for doing a trip like this varies widely. For example, one couple I met, who were out for two years, purchased a wood 28' trimaran for $7,000. I ran across them a number of times and they were having a great time. A very young Canadian, had built a 19' sailboat he was taking around the world and had spent over $60,000 just on materials for this high tech marvel of innovation which he and his Dad's boatbuilding yard built.
I did see first hand why the common expression among cruising sailors is "small boat, big smile, big boat no smile" but there are exceptions to this rule. Big boats can be great with the right approach.
I did find out that very nice 30-40' boats are available in Ft. Lauderdale for a lot less than what they would cost in Toronto.
My Contessa 26' was custom built with various options I wanted such as having the rudder modified for the self-steering gear and having all port-lights openable. The standard Contessa is pretty well equipped for ocean sailing. My boat cost $43,000 (1986) and an additional $12,000 for equipment including the all stainless steel Monitor self-steering gear and custom made anchor frame.
I did the usual things like having all three sets of reefing lines lead back to the cockpit, installed a small horizontal manual windlass, and had a dodger fitted. I made a good navigation table which fitted over the stove and a small fold-out seat there. I also had extra depth sounder, speed and compass read-outs below so when navigating, preparing food or resting I could tell more of what was going on.
One of the best modifications I made was having stainless steel handles bolted inside and outside the companionway - these were really great - especially on the Contessa without a sliding hatch as you could swing yourself in or out very easily and safely.